ADA Signs
Signage in public areas of all buildings are subject to compliance with federal, state and local code requirements - requiring the use of certain symbols, messages, graphic standards and Braille characters. We manufacture wheelchair accessible plaques and most common public facility access and use requirements outlined in the ADS. These Americans with Disabilities Act signs are available in a variety of standard colors and can also be adapted to any custom color scheme or design. At Custom Sign Center we sell some in-stock and also custom made signs at warehouse prices direct to apartment community management companies, builders, contractors, retailers and architects.
Our ADA signs are made for easy install and are ideal for all interior applications and always ADA compliant.
Handicap Parking Signs
Blue & White Wheelchair Accessible Handicap Insignia Signs & Plaques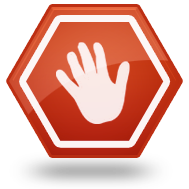 ADA handicap parking signs identify designated disabled parking and handicap access areas for special needs persons, vehicles and other mobility aids, such as wheelchairs and powered chairs. Posting these signs assures that reasonable access to commercial and government facilities is afforded to persons falling under the perview of the Americans with Disabilities Act, and are required in order to assure the rights of disbaled persons by providing traffic and parking code enforcement.