Traffic, Parking & School Signs
We are a leading manufacturer of MUTCD compliant Regulatory parking and traffic signs that meet all 50 state Departments of Transportation requirements for materials and reflectivity. We manufacturer street and road signs and school signs. To order, select the sign category that matches your interests to learn more about our School and Handicap signs, Construction or Traffic Regulatory signs. Quantity discounts may apply: no orders are too small or large.
Construction Signs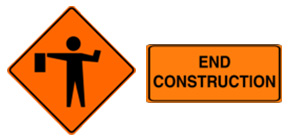 Road Construction Signs alert drivers to the dangers posed by construction activity, and provides for enhanced protection for road work crews.
Handicap Parking Signs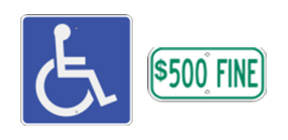 Our Handicap Signs promote and reinforce parking laws & regulation requirements which help enforce public access rights for handicap persons at public facilities and roadways.
School Signs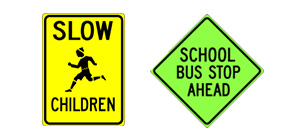 Student safety signs in Fluorescent Yellow Green Diamond Grade™ promote school zone traffic laws. The school zone signs we manufacture meet MUTCD standards of most U.S. school districts.
Traffic Signs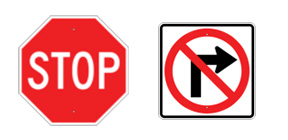 We make road traffic regulatory signs suitable for traffic law enforcement in townships and municipalities across the USA.
Warning Signs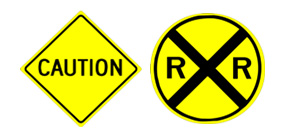 Street & highway warning signs alert drivers to unexpected conditions. Our yellow & black high-visibility signs & plaques comply with minimum state specifications for materials and design.

MUTCD Compliant & We ship to all 50 states
Montgomery (AL), Juneau (AK), Phoenix (AZ), Little Rock (AR), Sacramento (CA), Denver (CO), Hartford (CT), Dover (DE), Tallahassee (FL), Atlanta (GA), Honolulu (HI), Boise (ID), Springfield (IL), Indianapolis (IN), Des Moines (IA), Topeka (KS), Frankfort (KY), Baton Rouge (LA), Augusta (ME), Annapolis (MD), Boston (MA), Lansing (MI), St. Paul (MN), Jackson (MS), Jefferson City (MO), Helena (MT), Lincoln (NE), Carson City (NV), Concord (NH), Trenton (NJ), Santa Fe (NM), Albany (NY), Raleigh (NC), Bismark (ND), Columbus (OH), Oklahoma City (OK), Salem (OR), Harrisburg (PA), Providence (RI), Columbia (SC), Pierre (SD), Nashville (TN), Austin (TX), Salt Lake City (UT), Montpelier (VT), Richmond (VA), Olympia (WA), Charleston (WV), Madison (WI), Cheyenne (WY)