Sign Materials & Substrates
Materials in sign making refer to the actual surface to which the inks are applied. When printing your sign it is important to consider where the sign will be displayed. Will it be an interior or exterior sign. At Custom Sign Center we have already considered all the environmental factors and manufacture our signs to be durable, easily maintained and long lasting. There are a lot of different substrates for the manufacture of signs. They range from the lightweight to the very heavy, rugged metal and MDO panels. Here we're going to get a basic sense of what each of these materials is made of and what its best uses are. Here we go!
Corrugated Plastic
Coroplast makes our corrugated plastic materials. Some in the sign industry refer to it as Corex or Coro. All of our general yard signs are constructed with this material. It's great for temporary signage like political signs, special sales, job site construction signs, directional signage for open houses, and other real estate lightweight signs. Custom Sign Center's 6mm Coroplast is great for double sided yard signs as the colors and graphics do not bleed through.
There are a lot of benefits to using Coroplast in 4mm or 6mm.
100% Recyclable
Unaffected by Water
Stronger and more Durable than fiberboard
Extremely Lightweight
Won't Rust, Rot, Mildew or Corrode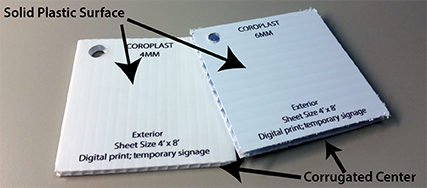 Dibond - The Ultimate Substrate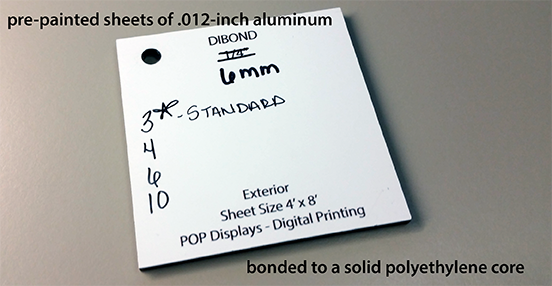 Dibond®, is a rigid, durable aluminum composite material consisting of two pre-painted sheets of .012-inch aluminum bonded to a solid polyethylene core. A unique composition that makes it approximately one-half the weight of aluminum. Dibond® is an excellent replacement for aluminum, MDO, plywood, thick gauge plastics, and some laminated fluted/ solid core sheets. Renowned as the most rigid and durable ACM panel. Dibond®'s superior flatness is suitable for direct digital or screen printing, and is perfect for creating interior or exterior signage, exhibits and displays.
PVC Sign Materials 1/8", 1/4", 1/2" & 3/4" Thicknesses
PVC is a durable signage material that, with proper care, will last and last. This substrate is great for many applications. The 1/4" is what we use on our Real Estate signage for the panels and the Real Estate Riders. It can be ideal for other signs, displays, exhibit booths, photo mounting, interior design, model making and much more. It is easily sawed, stamped, punched, die cut, sanded, drilled, screwed, nailed, or riveted. It has excellent impact resistant qualities as well as having a low water absorption rate and has high corrosion resistance. The surface is smooth and perfect for printing or vinyl lettering as well as painting with a brush, roller or air brush. Get the most out of your signage by keeping it clean with a damp cloth and storing it properly.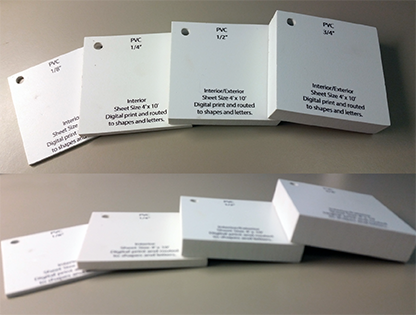 Acryllic

This is a very versatile material used for signage. The large variety of applications boggles the mind. Use this substrate for new age lobby displays, cut out lettering (3D), and many different types of signs that are back lit. This material comes in many different thicknesses. Great to use as a clear cover for any other rigid signs. Can be used on interior walls for a high end look. This material will last a long time as long as it is cared for properly. Wipe clean with a damp cloth, take care it can be scratched with the wrong type of cleaning products.

Aluminum ~ .40, .63, .80
Let's talk about aluminum as a sign substrate. This material is perfect for exterior signage. Aluminum is a thin metal substrate, fairly lightweight with a nice glossy enamel finish. Custom Sign Center prints directly on this substrate, and also uses high performing vinyl artwork/graphics as well. They stand up to the weather of any season. This material is used for many outdoor wall signage as well as construction signs, parking signs, ADA signage and school zone and crossing signs and traffic regulatory signage. The applications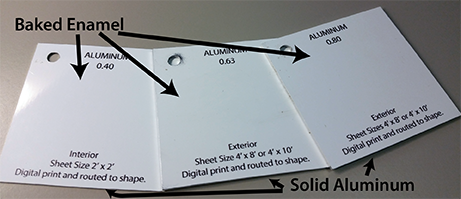 3mm ACM
This materials is an aluminum composite and can be used for interior and exterior signs. Great for mounting graphics or digital screen printing. This material can be saw cut, rounted or punched.
This substrat is suitable for
POP / POS Displays
Exhibits & Kiosks
Interior Signage Displays
Exterior Signage Displays
Framing
Window Displays
Dimensional Letters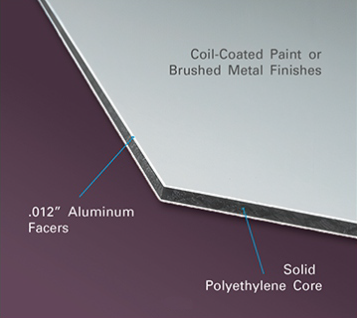 Foamcore 1/4"


Foamcore is a lightweight material that is easily cut and mostly used for mounting photo prints, as a back in picture framing and in 3D designs and painting. constructed from a lightweight polystyrene foam board sandwiched between two rigid polystyrene sheets of veneer this substrate is very versatile. It can be printed on and also cut to shape so it's very useful for signage. The original white foamcore board was made in 1/8 inch (3 mm) and 3/16 inch (5 mm) thicknesses for the graphic arts industry by Monsanto Company under the trade name "Fome-Cor®" starting in 1957.[1] Monsanto sold the business to International Paper in 1993, and the business is currently operated by 3A Composites. It is now widely used as backing in art and document mounting and picture framing, with archival-quality variants now available from several companies. It ranges in thickness from 1/16"–1/2". It is not recyclable or biodegradable in normal situations.

Scrim Vinyl ~ 13Oz
Last but not least is our Scrim Vinyl. We use this to make all of our vinyl banners. Our 13oz scrim vinyl is a substrate made of polyethylene and reinforced with polyester cord. It's the cords that give it the strength to stand up to the weather. We use brass grommets - brass does not rust - so that when our banners are erected outside they and their accessories will stand up to the torture of wind, rain, snow and sun. Our UV resistant inks print smooth on the scrim surface and also stand up to inclement weather.